15. Feb.
Nach einer Joggingrunde und dem Frühstück sind wir zur Smith Beach (bei Yalingup) gefahren. Wir hatten Boogieboards und sind damit auf den Wellen gesurft. Wieder ein tolles Erlebnis. Zudem haben wir Delphine gesehen.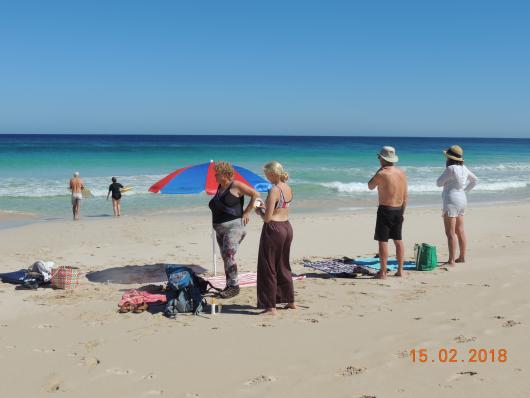 Am Nachmittag sind Marlene, Matilda mit mir zu einem Winzer, den ich schon vor 32 Jahren besucht hatte. Aber inzwischen wurde der Weinbau schon zwei Mal verkauft. Der Wein hat in "Clairault-Streiker" (vor 32. Jahren "Cape Clairault") sehr gut geschmeckt. Wir hatten zudem eine Käseplatte und ein Terine-Platte zur Stärkung. Wir waren ca. 2 Std. dort. Noch einen Abstecher zu einer Käserei gemacht, aber das war eher enttäuschend. Dann noch zu einem Speiseeis-Laden gefahren und sehr leckeres Eis (Applepie und Mascarone-Orange) als Desert für das Abendessen gekauft. Vor dem Sonnenuntergang noch Sugarloaf Rock und Bunker Bay besucht. In Bunker Bay gebadet und dann am Strand einen Drink genossen. Einfach herrlich! Wieder vorzüglich zu Abend gegessen.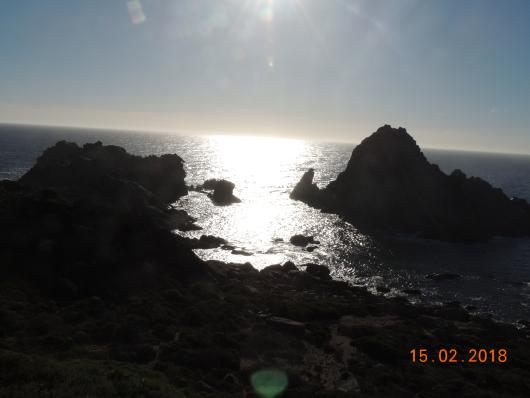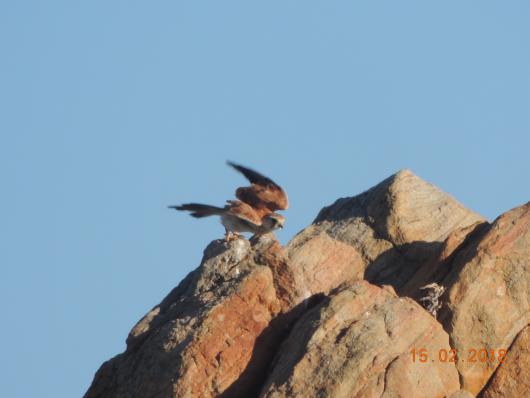 _________________________________
After jogging and breakfast, we drove to Smith Beach (at Yalinup) We had boogie boards and rode the surf with them. Another fun experience. We also saw dolphins and Marlene still thinks they were sharks. In the afternoon, Marlene, Matilda and I went to winery and had a tasting . I had visited this winery 32 years ago. The winery has been sold twice in that time. The wine from "Clairault- Streiker" was very good. We had a cheese platter and a terrine platter for lunch. We were there for about 2 hours. Later we visited a cheese maker and were very disappointed. Finally before returning, we picked up some ice-cream at a local producer for dessert for the evening meal. (apple pie and Marscapone orange). Ann Marie cooked a lovely Mexican dish for dinner. Yummy!
geo.moe am 17. Februar 18 |
Permalink
| |