13. Feb.
Wir haben etwas länger geschlafen und dann noch lange mit Leith gesprochen. Erst gegen 12:00 Uhr weitergefahren. In Busselton auf dem längsten Landungssteg auf der südlichen Hemisphähre (1841 m lang) eine kleine Wanderung gemacht. War sehr schön. Da die Queen Mary II vor Busselton geentert hatte, konnten wir auch erleben, wie sich Menschenmassen an Land und wieder zurück bewegen.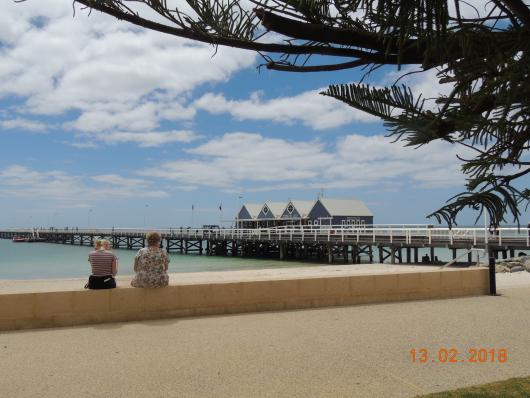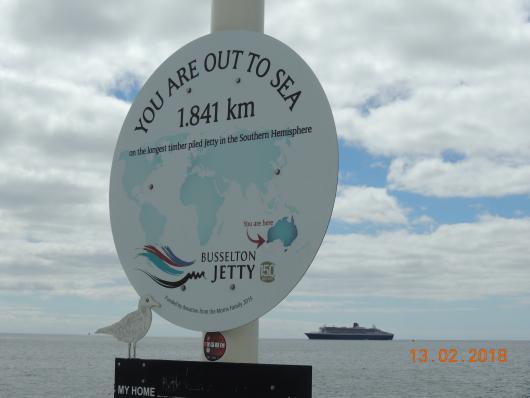 Weiter nach Dunsborough gefahren und dort Bev und Roy getroffen. Wir dürfen dort im Haus von Roys Schwester (vielen Dank!) übernachten. Am Abend gemeinsam mit Freunden ein schönes Abendessen mit leckerem Wein eingenommen.
_________________________________
We slept a little longer this morning and then talked with Leith for ages. We got away at around 12pm and drove to Busselton and walked along the longest pier in the southern hemisphere. (1842m long) The cruise ship Queen Mary 2 was moored on the ocean near Busselton and we were able to see how many people are in one of these cruise ships. We continued onto Dunsborough and met up with Bev and Roy who showed us to our accommodation for the next 3 nights. It is the holiday house of Roy's sister and we are very grateful to be able to stay here. Thanks a lot. A lovely dinner with 2 couples who were visiting Bev and Roy.
geo.moe am 17. Februar 18 |
Permalink
| |